Do-It-Yourself Versus Professional Exterior Painter
Jan 25
Painting the exterior of a home is not only aesthetically pleasing and can increase the overall curb appeal, but it also provides important protection. Painting the exterior of a home or company offers a multitude of advantages.
A new coat of paint will not only make your home look fresh and inviting, but it will also protect it from weather damage, insects, and rot. If you intend to paint the exterior of your home, you have two options: hiring a professional or doing it yourself (DIY). In this post, we will examine the benefits and downsides of both alternatives so that you can choose the one that best suits your needs.
DIY Exterior Painting: Benefits and Detriments
Since you won't have to pay a professional painter, you can save money by painting the exterior of your home yourself. Additionally, if you appreciate the gratification of accomplishing something yourself, it can be a satisfying experience. However, it is essential to have a realistic view of your painting skills and expertise. If you lack the proper knowledge and tools, a do-it-yourself project can be a time-consuming and costly endeavor.
What Should You Consider Prior to Beginning a Do-It-Yourself Exterior Paint Job?
Before embarking on a do-it-yourself exterior painting project, it is important to examine a number of factors. You must evaluate your talents and knowledge first and foremost. If you lack any of the fundamental painting skills, you should engage a professional painter. Additionally, you must assess the amount of time and money required for the project. You must purchase specialized equipment, materials, and the required tools for the job.
DIY Exterior Painting Requires a Time Commitment
DIY exterior painting can be a time-consuming endeavor due to the time required to prepare surfaces, select colors, and decide the appropriate paint kind. If you lack fundamental knowledge of these factors, you may need to spend a great deal of time researching and evaluating various choices before you can begin. Moreover, the actual painting procedure can take several hours or days, depending on the scope of the project.
How Long Does an Exterior DIY Paint Job Last?
Numerous variables influence the durability of a do-it-yourself exterior painting work. The quality of the materials and equipment employed, as well as the amount of time and effort you are ready to invest in preparing the surfaces. The weather might also impact how long your paint job will endure. In general, a great DIY paint job can last three to five years before requiring minor touch-ups or a complete repainting.
Does a DIY Paint Job Add Home Value?
Depending on the look and quality of the work, a well-executed exterior painting project can increase the value of your home. This is a cost-effective option to enhance the exterior of your property. However, it is crucial to remember that a DIY paint job will not be as sturdy or long-lasting as a professional work.
Materials for Exterior Home Painting
Always choose high-quality products while painting the exterior of your property. Included are high-quality paint, priming, and brushes. Before applying paint, it is essential to use a primer, since this will guarantee the paint clings to the surface and does not chip or peel. Additionally, you should invest in high-quality brushes and rollers, since doing so will enhance the job's appearance.
Cost of Home Exterior Painting
Depending on the scale of the project and the quality of the materials used, a do-it-yourself exterior paint job might cost anywhere from a few hundred to several thousand dollars. Investing in high-quality materials is crucial since they can help you save money over time. Additionally, you must account for the time and effort required to execute the task.
Positives and Negatives of Employing a Professional Painter
Most painting companies will tell you that hiring a professional painter is the most efficient and cost-effective way to paint your area. This can save you time, effort, and money in the long run, as specialists have access to the best materials, tools, and procedures for any given project.
The disadvantage of hiring a professional is that you must account for the expense of their work, supplies, and time; nevertheless, the end result is a far superior product than if you were to complete the task yourself. Your chosen professional painter may transform your most cherished spaces into masterpieces with the aid of skilled advice and help.
The Time Commitment Involved in Employing a Professional Painter
Hiring specialists to complete a painting project can save a great deal of time. When you hire painters, you don't have to worry about the preparation and research required for painting, as the specialists will arrive with all the necessary supplies.
Nonetheless, it is crucial to plan for the amount of time it will take the painting professional to complete the project; therefore, ensure that any timeframe is properly specified with the painting professional in advance. Professional painting services not only save you time, but they also give a touch of high quality to your painting project, and you get to see it come together without lifting a finger!
How Long Does a Paint Job Performed by a Professional Last?
A competent exterior paint job can last anywhere between five and ten years, depending on the same criteria described previously. Professional painters typically utilize higher-quality paint and tools, thereby extending the durability of their work. In addition, they are adept at evaluating the job in advance, which can have a significant impact on the outcome.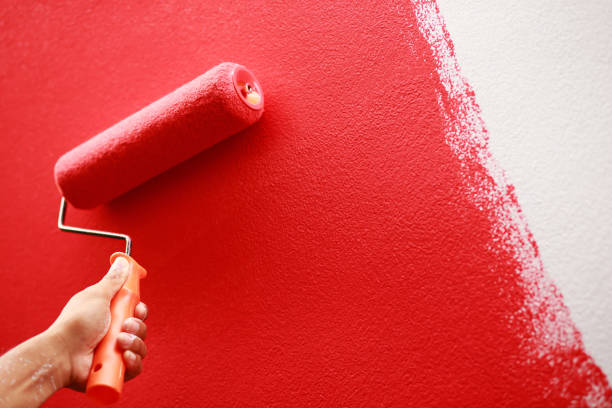 Does Professional Painting Increase the Value of a Home?
A professionally painted exterior will increase the value of your property since it will look better and last longer than a paint job you perform yourself. This is especially true if the work was completed by a respected professional, as this ensures that only high-quality materials were used and that the work was performed precisely.
What types of materials does a professional painter use?
Professional painters have access to superior-quality products that are significantly superior to those sold in hardware stores. Professional painters typically use primers, paints, and equipment such as sprayers, rollers, and brushes that are designed for professional use. These materials can have a significant impact on the paint job's durability, precision, and overall appearance.
Price of an Expert Exterior Painter
The decision to hire a professional painter for home painting chores might be costly, but is often required. The cost of a high-quality finish can vary depending on the complexity and scale of your job. Before deciding on a house painter, it is essential to solicit multiple bids and compare them to ensure that you stay within your budget. Additionally, inquire about a payment plan or project add-ons that could assist minimize project expenses. Finding the proper painter to give your room an upscale appearance will need research, but it will be worth it in the end!
DIY versus Employing a Professional?
There is a significant distinction between DIY painting and hiring a professional painter when it comes to painting your own home. If you choose the do-it-yourself approach, you should save money, be prepared to master painting skills and techniques, and acquire the necessary tools and materials. Hiring a professional painting contractor, on the other hand, ensures that you will obtain high-quality results because they have the expertise and knowledge to complete any painting project, whether it involves painting interior or exterior surfaces. When you hire a professional painter, you can rest confident that they will only use high-quality materials and methods to accomplish the work properly.
Painting the exterior of your home is an excellent method to increase its value and protect it. When deciding between completing the project yourself or hiring a professional outside painter, you should examine your abilities and knowledge, the nature of the job, and the amount of time and money you are willing to commit. DIY can be a gratifying experience, but you must be honest about your abilities and the materials required. If you lack fundamental knowledge, the best alternative is to hire an expert. The choice is yours either way.
If you're looking for more ideas about this topic, feel free to read this blog post from Harmony Painting: https://harmonypaintingdenver.com/diy-vs-hiring-a-professional-exterior-painter/